I recently found this piece of paper on my desk...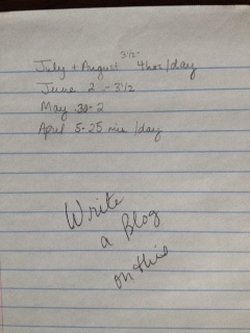 In April 2016 I was asked to participate in a chamber festival which I guessed would require me to play about the equivalent of four hours of practicing per day. By equivalent I mean that in say six - seven hours of rehearsing I guessed I might play about four actual hours, or something like that...
​The problem was that I wasn't in the physical or mental shape to do that. Winter had brought loss of work, loss of a friend, sickness, the usual winter blahs, and an emotionally devastating orchestra audition experience. I had barely been practicing.
I figured if I could work up my daily practice from 5-25 minutes per day in April, to 30 minutes - 2 hours in May, Then 2 - 3 1/2 hours in June, and finally 3 1/2 - 4 hours in July I'd be ready!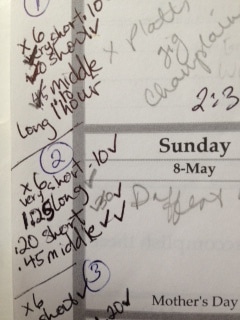 In May I finally got started.

I decided to use the long distance runner training method for beginning marathoners.

The basic idea is that to increase distance endurance you need short, middle, and long distance runs that increase over several months. You also need rest days to recover from the long runs. For mental health I added very short distances.

Each had four practice time lengths. One very short, two short, two middle, one long = 6 days of practicing, 1 day off.



Week One:
Very Short .10 minutes
Short .20 minutes
Middle .45 minutes
Long 1 hour and .25 minutes

For eleven weeks I gradually added time...

I learned in running that after you've built up distance for awhile to slow down adding miles and focus on building the middle distances. That way you get stronger overall through-out the week and are less prone to injury or burn out. I also learned for myself that somewhere along the line you will need a week or two of lower mileage either because of fatigue, personal circumstances, or motivation. This was also true for practicing. I could have planned for it- I learned that lesson already! Instead I had to re-adjust my schedule for a break week.

There were some other adjustments along the way too; for example on week five I found that I couldn't move forward so I repeated week four. On week nine I skipped the middle distances and decided to continue on anyway with week ten. I also started physical therapy for my right shoulder. I have a lax tendon that has given me trouble since a volleyball injury. When it is very bad I will have a partial dislocation. One night after a gig I was carrying my things in from the car and twisted a little bit and the shoulder gave way and I dropped my cello and bags onto the driveway. It was scary and then painful. I sat on the car bumper and cried. As I went to therapy to strengthen the shoulder muscles that I wasn't activating on my own, I had to balance the practice regimen with the amount of fatigue/mild pain I experienced. Each week I would plan out where to place the various practice distances, adjusting where necessary based on work, therapy, etc.

My final week before the festival started my schedule said:
Very Short .45
Short 1 1/2 hours
Middle 2 1/2 hours
Long 3 1/2 hours

That week I did my one long, one middle, one short and then three very short.

I didn't quite make it to my goal of four hours but I was ready for the festival! I was so proud of myself for all those practice sessions from .10 minutes a day to 3 1/2 hours! I was also grateful to have access to professional care to help me stay healthy along the way.

If you'd like a copy of my entire plan plus tips send me an email! erogerscello@gmail.com